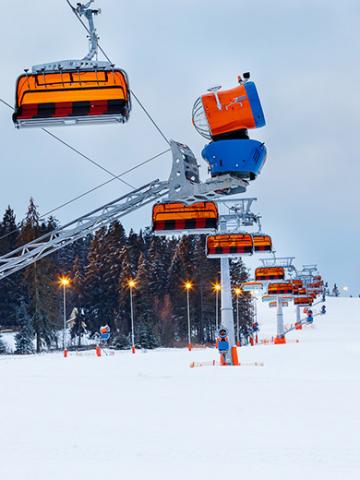 Design
Investment preparation consists of many important elements. The best specialists work and design at SUPERSNOW, watching over every detail. A masterplan shows the most optimal technological solutions of a proposed ski slope snowmaking system. It is a concept in graphic form that is made on the basis of suggestions/information provided by the customer and a site inspection.
Construction
SUPERSNOW's offer also includes general contracting with respect to the installation of machines, equipment and other components of a snowmaking system.
Training
Customer training in the field of professional preparation of pistes aims at improving the standards of ski slopes and SUPERSNOW's equipment operation. Awareness and skills acquired by people who underwent training enable considerable development of ski resorts participating in the cycles. Training organised by SUPERSNOW is conducted in the form of lectures and practical exercises, which allows correction of errors and not repeating them during work.
Supervision
Supervision includes SUPERSNOW'S supervision over the implementation of an investment project. The aim of the supervision is to ensure the execution of installation works according to project documentation of a facility, applicable provisions of law and standards. Supervision is carried out by experienced and qualified professionals.
After sales support
Our manufacturing policy allows each customer long, trouble-free operation of our equipment. SUPERSNOW has been putting special emphasis on professional and comprehensive service since the beginning of its activity on the Polish market of artificial snowmaking systems. During the season, each customer buying our systems can count on reliable maintenance services and professional advice. Thanks to high qualifications possessed by our service staff no customer should have any problems with failure rectification or part replacement. Furthermore, after the season, we continually conduct technical inspections during which we check electrical systems, clean water and nucleation nozzles, filter elements and replace compressor oil as well.